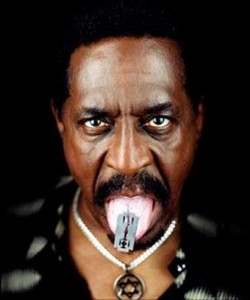 Un musicien plus connu pour avoir frappé sa compagne que pour sa musique cela vous rappelle quelqu'un ? Non il ne s'agit pas de notre ex-Bertrand Cantat national mais bien d'Ike Turner. Musicien tyrannique, cocaïnomane invétéré, mari abusif: tout aura été dit sur la face sombre de ce compositeur. Et pourtant le coté obscur ne doit pas effacer le génie d'Ike Turner.
En 1951, il compose a l'age de 19 ans "Rocket 88″, considéré par certains comme le premier véritable morceau de Rock de l'histoire et l'un des premiers enregistrements comportant une guitare électrique saturée (il s'agirait en fait d'un accident, l'ampli étant cassé mais Ike insistera pour conserver le son).
1960. Ike rencontre une jeune femme originaire de Nutbush, une certaine Anna Mae Bullock qui deviendra Mme Tina Turner. L'association de la guitare d'Ike et de la voix rauque de son égérie les propulsera en tête des charts Soul aux US avec des tubes éternels comme "Proud Mary" ou "River Deep Mountain High".
Un autre aspect intéressant de sa carrière est la création du groupe The Kings of Rythm. Créé dans les années 50 avant la venue de Tina, ce combo instrumental, au fort penchant Jazz, sera ressuscité peu avant la mort du bonhomme et produira un superbe album de blues qui lui vaudra son premier grammy.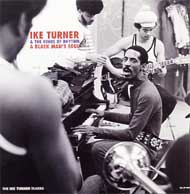 Si la valeur de la création n'est absolument pas une excuse aux errements de l'artiste, il convient néanmoins de ne pas limiter sa biographie à ses déboires conjugales et son comportement violent. Si un écrivain raciste et antisémite comme Céline a pu écrire un livre aussi beau que "Voyage au bout de la Nuit" c'est sans doute que la création n'est pas morale, mais puise sa force dans les tourments intérieurs. Ombre et lumière…
Pour en revenir à Ike, il décèdera en décembre 2007 des suites d'une overdose de cocaïne à l'age de 75 ans. Rock'n Roll en effet !!!
Ike Turner and the Kings of Rythm – "Camel Walking" (1964)
Ike and Tina Turner – "Sweet Rhode Island Red" (1974, EMI)
Ike and Tina Turner – "Nutbush" (1974, EMI)