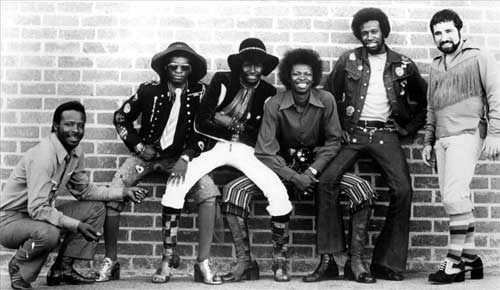 Heureuse et féconde famille des Chambers, dans leur Mississippi natal les parents eurent le faire-part généreux… Pas moins de 13 enfants qui finiront tous à la chorale de l'église. Autant dire que lorsque la famille Chambers partait en pique-nique le dimanche, les louanges dans l'église devaient paraître bien pales aux oreilles du Tout Puissant.
Installés dans les années 50 à Los Angeles, quatre des frères Chambers métissent leur gospel de blues & rock. Joe, Willie, Lester et Georges commencent à tourner et rencontrent Brian Keenan qui deviendra leur batteur. Suivront quelques succès d'estime plus que populaire.
L'heure de gloire viendra en 1967 avec l'album "The Time As Come" et son morceau "Time As Come Today", au cas où nous n'aurions pas compris… La composition de 11 mn est entrecoupée d'une longue jam-session des musiciens. Morceau remarquable qui fera date parce qu'il fusionne en 1967 les répertoires gospel et soul avec le psychédélisme, les petits anges de la chorale s'acoquinent aux démons de la musique…. Le morceau, malgré sa longueur et ses audaces expérimentales, connut un vif succès.
Si le temps des Chambers Brothers était venu comme le prophétisait leur album, ils finirent cependant plutôt en étoiles filantes qu'en stars. Ne sachant rebondir sur leur succès, trois petits tours et puis s'en vont. Il n'empêche que cet album réserve quelques autres pêchés, les enfant de chœur avaient bien quitté la ferveur pour la fièvre…
The Chambers Brothers "The Time Has Come" (1967, Columbia)
"I Can't Stand It"
"In The Midnight Hour"
"Time Has Come Today"
Un rare enregistrement en session de studio du mythique Time Has Come Today, en version noir et blanc et effets spéciaux d'époque pour le rendu psychédélique… Un son novateur et assez sauvage qui n'est pas sans me rappeler celui de The Doors, leurs contemporains, dans certains de leurs morceaux.