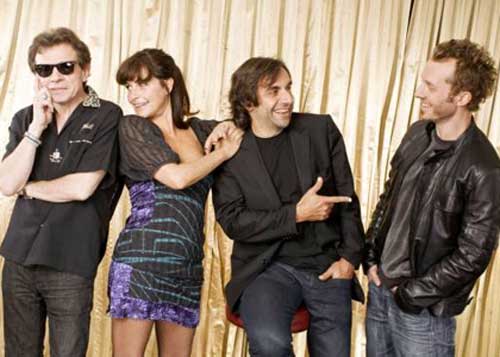 - Un quarteron de généraux en retraite –
Cher Philippe
Tu m'autorises à te tutoyer Philippe ? Ça fait longtemps que je te fréquente.
Si je t'écris aujourd'hui c'est qu'il m'a été donné de te voir apparaître en un lieu où j'attendais n'importe qui mais pas toi. Je lézardais alors sur le canapé de ma soeur et tu m'es apparu sur la couverture d'un journal télé quelconque et dont j'ai déjà oublié le nom. Tu n'étais pas seul Philippe. Tu étais pour l'occasion flanqué d'un certain André Manouquian, de l'éternelle survivante Lio et d'un quidam dont j'avais à peine entendu parler : un monsieur Sinclair. Le journal annonçait en titre énorme comme s'il s'était agit de décrocher le Pulitzer : "La nouvelle équipe de La Nouvelle Star". Et tu en étais mon cher Philippe. … Philippe Manoeuvre je crois.
Quand j'étais môme l'enseignement du français m'est passé quelques années lumières au dessus de la tête. A quinze ans on n'embrasse pas spontanément les délices de l'amour courtois à la cour d'Aliénor ou encore le théâtre surréaliste de Ionesco et c'est curieusement dans les colonnes de Rock and Folk que tu m'apprenais à lire. J'y trouvais un ton nouveau. Je comprenais que la musique – même si toi et tes compères en étiez tous amoureux – n'était qu'un support pour y poser des mots d'une autre façon. La critique Rock n'a rien d'un genre littéraire et sans doute s'agissait-il pour vous d'un pis-aller pour écrivains frustrés ou en devenir. En tout cas toi et tes comparses ( Bayon, Chalumeau … ) saviez écrire, et plutôt bien. Et moi, j'adorais ça.
Je découvrais ensuite, que tu étais gardien d'une histoire commencée plus tôt, par d'autres que toi. Rock and Folk a été créé par Philippe Koechlin, authentique fou de Jazz à l'époque où déferlait la révolution Bop. Immense bonhomme que ce Koechlin qui assura la transition entre générations à la fin des années soixante dix.
Quand j'étais môme, je regardais aussi les Enfants du Rock tard le samedi soir. Ici encore, le terrain était vierge et toi et tes acolytes défrichiez avec fraîcheur un genre qui restait à inventer : la télé Rock. Le genre en question ne survécut d'ailleurs pas. Avec l'innocente bénédiction de mes parents qui ne savaient même pas – les inconscients – qu'on y déniaisait le puceau à coups de vraies fausses audaces érotiques, je m'y rinçais même l'oeil dans une séquence appelée Sexy Clip. C'est dire si c'était novateur.
Il n'est pas question pour moi de délivrer un jugement de valeur sur la nouvelle Star. Je ne verserai pas dans ce débat. D'ailleurs à l'époque où tu sévissais aux Enfants du Rock, j'écoutais sans déplaisir les roucoulades de Joe Dassin chez les Carpentier.
Sans doute mon cher Philippe arriveras-tu à justifier ta présence. en ces lieux. Tu es un vieux renard, tu trouveras bien une formule qui fait mouche. Et puis tu es aguerri, tes compromissions ne datent pas d'hier finalement. Mais bon, pour moi, la culture Rock dont j'avais la faiblesse de penser que tu pouvais encore être dépositaire, c'est autre chose que la nouvelle Star…