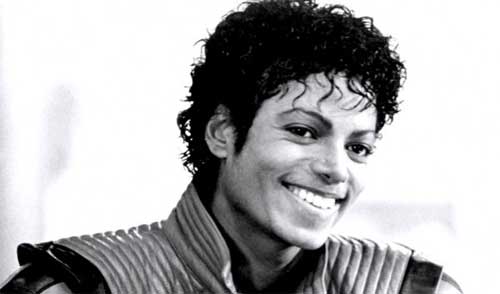 L'évènement de la journée est bien évidemment la mort hier soir de Farah Fawcett, l'une des héroïnes de la série "Drôle de Dames". Je voulais d'ailleurs poster un nouveau podcast aujourd'hui mais ce sera pour la semaine prochaine, faute de temps, au vu de l'urgence.
Trêve de plaisanterie douteuse, le roi de la pop est mort, vive le roi ! Lorsque j'étais beau et adolescent mes potes branchés écoutaient Joy Division, The Cure ou Bauhaus alors que moi, pauvre grooveur, j'étais bloqué sur Michael Jackson, en proie à tous les sarcasmes. Evidemment ce choix était bien moins "cool" vu le nombre astronomique d'albums de Thriller écoulé à cette période. J'en parle d'ailleurs toujours à mon psy.
J'ai cependant toujours été fasciné par le personnage. Probablement le seul humain a avoir été mondialement célèbre depuis sa petite enfance, il n'aura finalement pas été très étonnant qu'il soit devenu quelque peu bizarre avec l'age. D'où le choix d'une photo un peu ancienne pour illustrer cette nécrologie, du temps ou Michael était encore un peu noir et ressemblait à un habitant de cette planète. On passera sous silence les fâcheuses accusations de pédophilie, vu que l'on n'est pas trop sur si Jacko a été une victime facile pour certains afin de lui soutirer quelques millions de dollars ou alors un star-enfant perdue, jadis maltraitée par un père abusif, et dotée d'une sexualité quelque peu pervertie. Sans doute un peu des deux…
Les amateurs de musique retiendront surtout une bête de scène et un compositeur multi-instrumentiste hors-pair qui aura collaboré avec les plus grands producteurs, au premier rang desquels l'immense Quincy Jones, son père spirituel. "Off the Wall" et "Thriller" seront sans doute ses deux plus grands albums, un mélange de Funk, Soul et Disco avec une touche de Jazz qui accoucheront de multiples classiques et constituent l'un des piliers de la musique noire américaine, donc de la musique tout court.
Michael Jackson n'aura pas produit grand chose d'intéressant dans les dernières années avant sa mort mais la ligne de basse de "Billie Jean" ou l'hymne disco "Don't stop till get enough" resteront gravés à jamais, que l'on n'aime ou pas le chanteur. Et puis 750 millions d'albums vendus, c'est quand même "respect".
Finalement sa mort m'aura touché plus que je ne l'aurai pensé. Autant que la tristesse de voir un grand musicien nous quitter, sans doute suis-je aussi atteint de la nostalgie du temps qui passe…
Michael Jackson – "Don't Stop til get Enough" tiré de "Off the Wall" (1979, Epic Records)