Nul doute que Bruno Patchworks Hovart mérite son surnom, ce lyonnais, Janus perdu dans un labyrinthe de miroir, connaît nombre de visages. Producteur, musicien on le retrouve derrière bien des projets, The Dynamics, Mr Day ou l'excellent Mr President n'en sont que quelques masques.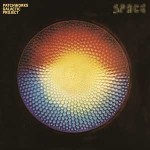 Ce prodige des sons surprend avec son Galactic Project. Epopée cosmique et musicale revisitant les sons des BO fantastiques des 70's, naviguant parfois entre disco et funk, l'album emprunt d'électro réserve quelques pépites. A l'hypnotique Surrounded By The Gobblins, répond le fiévreux Gobblins Are Gone, œuvres démoniaques où le malin et le groove se cachent au plus noir du vinyle. Un petit clin d'œil au groupe italien underground et culte Goblin connu pour ses BO de Dario Argento dans les années 70's. Le morceau Clouds From Above serait plutôt dans une ambiance aux influences ne manquant pas d'Air…
Patchworks Galactic Project (2013, Favorite Recordings)
"Surrounded by the Gobblins"
"Gobblins Are Gone"
"Clouds from Above"
La video de Clouds From Above, quelques notes, quelques pas de danse, une chorégraphie très aérienne.