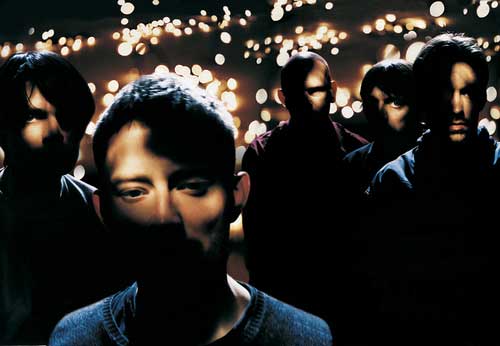 Radiohead est le meilleur groupe au monde, c'est sur, ils sont déja qualifiés pour les JO de la pop de Pékin.
En tout cas j'achète toujours leur dernier album avant de l'avoir écouté, avec la même tranquilité que celui qui retrouve de vieux amis.
Radiohead a surpris son monde, avec la sortie médiatisée (on parle ici surtout d'internet) il y a tout juste une semaine de leur dernier album: "In Rainbows".
Car ce qui occupe les discussions au comptoir des employés d'EMI, c'est le fait que Radiohead, en fin de contrat avec leur major, sort un album sur le net avant de le sortir sur CD, sans prix fixe. Sans prix demandé, car si l'on se rend sur sur inrainbows.com<, on peut télécharger la version mp3 de l'album. On vous demandera alors de payer la somme que l'on veut (zéro est accepté).
Le procédé est intelligent, le groupe sait que de toute façon l'album se retrouvera sur le P2P gratuitement, donc autant donner les fichiers directement en comptant sur les fans pour payer.
Avec 1,2 millions téléchargements dans les premières 24 heures, et apparemment un tarif de 4 livres sterling en moyenne, on fait rapidement le calcul. Alternativement, le groupe propose le coffet super-deluxe a 40 pounds (vinyls+cd+artwork) afin de bonifier le support musical traditionel.
Le tout donc sans maison de disques derrière eux.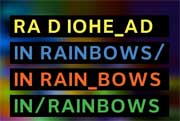 C'est la confirmation qu'un groupe peut désormais se débarasser de certaines structures de distribution traditionelles et vendre directement leur musique avec moins d'intermédiaire. Evidemment, cela marche mieux lorsque l'on s'appelle Thom Yorke que Roger Cageot, mais cela ouvre des perspectives intéressantes pour le marché de la musique. La technologie permet désormais aux musiciens à la fois d'enregistrer leur musique à peu de frais grace au home studio, mais aussi de la vendre et de la promouvoir par le biais du web et des réseaux sociaux type myspace.
Mais foin de ces discussions de marchands de tapis: parle nous de musique. OK computer a t-il un héritier direct
La réponse est oui. Comme avec les Renseignements Généraux, il faut cependant plusieurs écoutes avant de pouvoir établir un rapport.
Ce dernier est cependant sans surprise: Radiohead est toujours en haut, loin de la mêlée vulgaire de la pop-marketing. Comme avec les plus grands, on est parfois presque déçu à la première écoute, pollué que nous sommes par l'envie de plaisir immédiat. Et puis on découvre les chansons une par une pour se rendre à l'évidence: "In Rainbows" est l'achat (ou "l'achat gratuit") indispensable de 2007.
On peut recommender de commencer par le dernier extrait, "Jigsaw Falling Into Place", avec son riff acoustique collant (je dirais même plus magnétique). On imagine tout de suite le final, orgie discrète de guitares lubriques.
Chair de poule, on revoit L'OM à Liverpool.
"Bodysnatchers", quant à lui, est le morceau perdu de "OK Computer".
Avec "In Rainbows", Radiohead comfirme le retour des guitares, déja amorcé sur l'excellent "Hail to the Thief". Les mélodies sont à pleurer, des arrangements pour cordes pointent leur nez mais aussi, chose nouvelle, un vrai travail sur les choeurs.
Retour au source ? Finalement non, Radiohead gardent le meilleur de la musique électronique, déja absorbée depuis l'album "Kid A" et tracent seuls leur propre chemin. Comme Dominique De Villepin.
Ne reste plus qu'a prier pour une tournée, apparemment prévue au printemps 2008, qui passerais par l'hexagone.
"Bodysnatchers
"Weird Fishes/Arpeggi"
"Jigsaw Falling into Place"