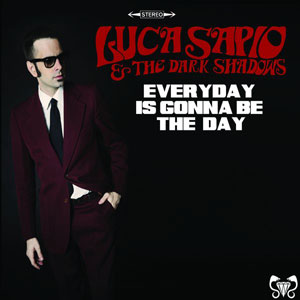 L'italien Luca Sapio, comme avant lui nombre de ses compatriotes mafioso ou pizzaïolo, a tenté l'aventure américaine. Il a traîné ses guêtres des années durant, de rues en partitions, de petits boulots en apparitions auprès de quelques noms de la musique. Avec sa belle voix chaude il aurait pu n'être qu'un crooner rital de second rang…
Mais c'était sans compter sa rencontre avec Thomas Brenneck auquel le timbre blues de sa voix n'a pas échappé. Le producteur d'Amy Winehouse, Charles Bradley, Menahan Street Band, Sharon Jones et tant d'autres a donc pris sous sa partition protectrice le petit Luca pour un premier album sorti en 2012. Everyday Is Gonna Be The Day est leur deuxième collaboration, et la rencontre de la voix blues du chanteur et l'univers soul du producteur fait merveille dans un registre de sons vintage porté par des enregistrements en session live avec les musiciens de The Dark Shadows.
Luca Sapio « Everyday Is Gonna Be The Day » (2014, Goodfellas)
"Nobody Knows"
"Everyday (Is Gonna Be The Day)"
"All Around Me"
Le titre Nobody Knows en live.