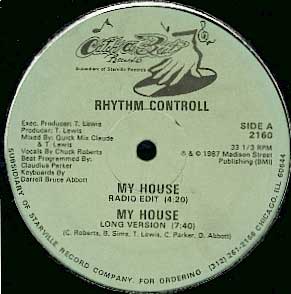 Il y a peu de mots crachés par des enceintes qui me rendent plus heureux et me rappellent de meilleurs souvenirs de dancefloor que les paroles inspirées de "My House." Elles décrivent le véritable esprit originel de la House et son aspiration à être un genre universel, joyeux et même spirituel comme l'étaient les gospels.
Sans doute le plus célèbre et le plus samplé vocal de l'histoire du genre, ce morceau de 87, déclamé par Chuck Roberts fut enregistré la ou est né cette musique: à Chicago.
Un an plus tard, cette version acapella fut incorporée dans le classique "Can You Feel It" de Fingers Inc. Depuis, des portions de cet acapella sont apparues sur d'innombrables remixs, l'original étant depuis belle lurette disparu et devenu un disqe trés recherché par les collectionneurs.
C'est cette version que je vous propose ici, dans toute sa gloire d'un vrai classique House :
In the beginning there was Jack … and Jack had a groove
And from this groove came the grooves of all grooves.
And while one day viciously throwing down on his box,
Jack boldly declared "Let There Be House" and House music was born.
"I am you see, I am the creator and this is my house
And in my house there is only House Music.
But I am not so selfish because once you enter my house
it then becomes our house and our House Music.
And, you see, no one man owns house
because House Music is a universal language spoken and understood by all.
You see, House is a feeling that no one can understand
really unless you're deep into the vibe of House.
House is an uncontrollable desire to Jack your body.
And as I told you before this is our House and our House Music.
And every House you understand there is a keeper.
And in this house the keeper is Jack.
Now some of you might wonder who is Jack and what is it that Jack does.
Jack is the one who gives you the power to jack your body!
Jack is the one who gives you the power to do the snake!
Jack is the one who gives you the key to the wiggly worm!
Jack is the one who learns you how to rock your body!
Jack is the one that can bring nations and nations of all Jackers
together under one house!
You may be black, you may be white, you may be Jew or Gentile.
It don't make a difference in our house. And this is fresh!"
Rhythm Controll – "My House (Acapella)" (original Mix) – tiré du vinyl 12″ (1987 – Catch a Beat Records)